Death Metal, por onde começar? - Parte 1
Após o sucesso do texto "Black Metal, por onde começar?", de Alexandre Romansine, o SBG resolveu seguir com a série e agora é a vez do Death Metal, um dos estilos mais influentes e versáteis do Metal.
Com raízes no Thrash Metal e no Black Metal oitentista, o gênero surgiu em meados dos anos 80 com forte influência de Slayer, Venom e Kreator.
Slayer: inspiradores de várias bandas de Death Metal.
Em 1984, a banda Possessed lançou a demo Death Metal. Em 1985 foi a vez do clássico Seven Churches, considerado o primeiro álbum do estilo. O gênero começou surpreendente, marcado pela agressividade, som sujo, baterias cadenciadas e letras sobre morte e violência. Era de uma brutalidade e podridão sem precedentes. O Death Metal logo ganhou força com o surgimento de bandas como Obituary, Deicide, Cannibal Corpse, Death e Morbid Angel.
Hoje, o som característico dessa fase, que se estendeu até a metade dos anos 90, é conhecido como old school death metal e diferencia-se bastante das vertentes que surgiram depois.
Possessed, tida como a banda precursora do estilo
Além de Seven Churches, vale conferir Cause of Death, da banda Obituary; Altar of Madness, do Morbid Angel; Deicide, do próprio Deicide e Scream Bloody Gore do Death – um dos grupos mais importantes do estilo e, em grande medida, responsável pela transformação radical do gênero nos anos seguintes.
Dessa origem crua, tosca e muitas vezes mal produzida, derivaram incontáveis vertentes, com influências e sonoridade bastante distintas.
O melodic death metal ou melodeath, como o próprio nome sugere, é um estilo mais melódico e menos brutal, com vocais mais rasgados e agudos, além de maior ênfase em solos de guitarra e a inclusão de teclados nas composições.
Convencionalmente, acredita-se que o gênero teve como marco inicial a obra-prima Heartwork, do Carcass (1993). Entretanto, há quem diga que algumas bandas escandinavas faziam esse tipo de música já na virada da década.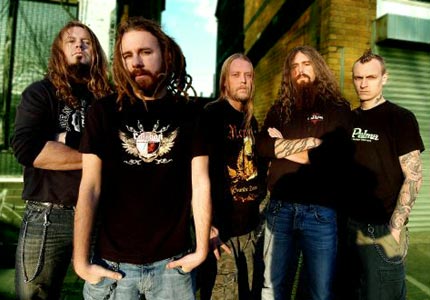 A banda In Flames, uma das mais famosas do gênero
Não é a toa que por alguns anos o termo gothemburg sound – referência à cidade sueca de Gotemburgo, lar das maiores bandas do estilo – foi usado como sinônimo para death metal melódico. Com certeza, trabalhos de grupos de lá estão entre as principais recomendações para quem quer conhecer melhor o estilo: Jester Race, da banda In Flames; Slaughter of the Soul, do At the Gates e The Arrival, do Hypocrisy.
Surgido em meados da década de 1990, o technical death metal é marcado pela complexidade. É um estilo caracterizado pela variedade de experimentações feitas pelos músicos. Possui uma fortíssima influência do Jazz Fusion, principalmente quando surgiram as primeiras bandas do gênero. As recomendações são Piece of Time, da banda Atheist; Human, da banda Death – que pulou do death metal old school, cru e sujo, para um som de técnica incomparável; None so Vile, do Cryptopsy; e Consuming Impulse, da banda Pestilence. Quem procura sons mais atuais pode conferir os álbuns Epitath, da banda Necrophagist; Annihilation of the Wicked, do Nile e Cosmogenesis, do Obscura.
O Death, liderado pelo falecido Chuck Schuldiner, foi sem dúvida a mais influente do gênero tech death
O estilo ainda deu origem a mais um sub-gênero: o symphonic death metal, que adiciona elementos de sinfonias e orquestras e possui como principais trabalhos Agony, do Fleshgod Apocalypse e Communion, do Septic Flesh.
Outra vertente bastante técnica, o progressive death metal incorpora elementos do metal e rock progressivos. É marcado principalmente pela alternância do som pesado e dos guturais com vocais limpos e passagens acústicas. Entretanto, bandas mais recentes romperam com essa tradição, mas ainda são definidas como progressivas por não adotarem uma estrutura convencional nas composições. As recomendações são Blackwater Park, do Opeth; From Mars to Sirius, do Gojira e Shrouded Divine, do In Mourning.
Death Metal, por onde começar? - Parte 1
Reviewed by
VOMITATION
on
11:27
Rating: