Death Metal, por onde começar? - Parte 2
Demorou, mas chegou! Concluímos a segunda parte do nosso especial sobre death metal. Se você ainda não sabe muito sobre o gênero, esse roteiro pode ajudar a conhecer as principais bandas, estilos e cenas. Confira, e não esqueça de ler também a
parte um
!
Tirando o pé do acelerador
O Death/Doom, como o próprio nome sugere, incorpora o estilo arrastado e lento do doom metal à agressividade do death, com letras que falam de escuridão e melancolia. Provavelmente, a primeira banda a combinar com frequência os dois gêneros foi o Cathedral, do Reino Unido com o disco de 1991. Entretanto, riffs compostos pelos americanos do Autopsy em 1989 já adiantavam algumas características dessa vertente.
As recomendações são The Ethereal Mirror, do Cathedral; Songs of Darkness, Words of Light, da banda My Dying Bride; The Pale Haunt Departure, de Novembers Doom e Dance of Decembers Souls, do Katatonia.
Dance of December Souls, álbum de estréia do Katatonia
Há ainda outro sub-gênero que flerta de maneira ainda mais extrema com o doom metal: o funeral death/doom, com um som muito mais lento, depressivo e obcuro. Os principais discos são Farmakon, do Skepticism e Angel of Distress, da banda Shape of Despair.
O Deathgrind é a louca mistura entre death metal e grindcore, tendo como características músicas curtas com andamentos muito rápidos, típicos do grind, além de letras que abordam mutilações, violência extrema, morte, doenças e até mesmo pornografia. Os álbuns recomendados são The Harvest Floor, da banda Cattle Decaptation; Matando Güeros, do Brujeria e Exit, do Rotten Sound.
O brutal death metal é o sub-gênero mais extremo do death metal. Foi popularizado pelo Cannibal Corpse, especialmente a partir do álbum Tomb of The Mutilated. As principais recomendações são Parallels of Infinite Torture, do Disgorge e War of Attrition, do Dying Fetus.
O Blackened Death Metal é a fusão do death metal com a sonoridade e a temática ocultista e anticristã do Black Metal. As recomendações são Pestapokalypse VI, do Belphegor; Neuthrone, da banda Crionics e Antichrist, do Akercocke.
Geografia explica a música
O estilo ainda possui diversas e importantes cenas: locais em que um estilo de som muito característico se desenvolveu. Confira:
Situada na Escandinávia, a Suécia possui uma rica cena de death metal. A capital Estocolmo concentrou importantes e influentes grupos do estilo, destacando as bandas Unleashed, Dismember e Entombed. A cidade de Gotemburgo foi uma das mais importantes do melodeath com bandas como In Flames e At the Gates. Também vale a pena citar bandas como Opeth, Bloodbath, Arch Enemy e Meshuggah, de outras regiões do país.
Conhecido por também ser um país influente e com um alto número de bandas, os EUA marcaram o início do estilo com o Possessed. A terra do Tio Sam foi berço de outras bandas pioneiras como Deicide, Obituary, Morbid Angel, Cannibal Corpse e Death. Impossível deixar de citar também Autopsy, Suffocation, Nile, Cattle Decapitation, Dying Fetus e Sadus.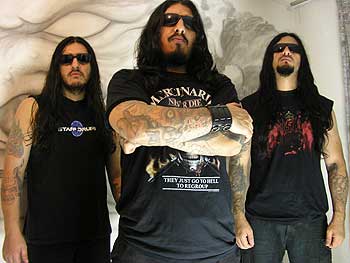 O Krisiun é considerada a maior banda de Death Metal Nacional
O Brasil também é berço de inúmeras bandas de Death Metal. O Sepultura, banda mais famosa e influente do país, fazia um som do estilo no início da carreira. Além disso, grupos como Krisiun, Sarcófago e Torture Squad compõem o cenário brasileiro.
Death Metal, por onde começar? - Parte 2
Reviewed by
VOMITATION
on
14:52
Rating: